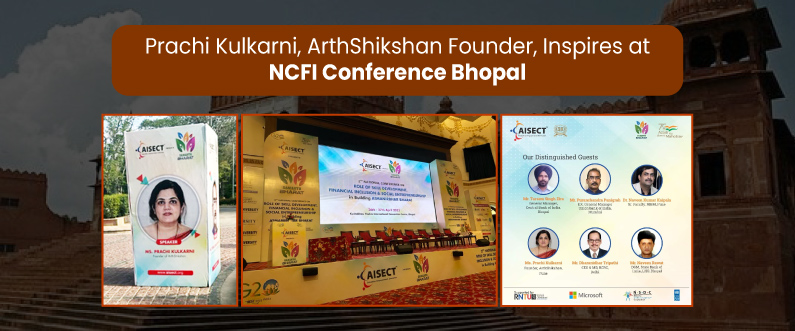 AISECT successfully organized the 2nd Annual National Conference on Financial Inclusion (NCFI), on "Skill Development, Social Entrepreneurship, and Financial Inclusion" in Bhopal on April 26th and 27th, 2023.
The Founder of ArthShikshan, Prachi Kulkarni, was invited as a speaker to share her valuable knowledge in the knowledge session on Financial Inclusion.
ArthShikshan, a leading FinTech education platform provides E-Learning in local Indian languages. It specializes in providing comprehensive support to learners without the burden of traditional lengthy programs. Prachi Kulkarni's presence as a speaker brought forth her expertise and insights to the conference attendees.
This year's 2nd Annual National Conference was centered around the role of Skill Development Entrepreneurship and Financial Inclusion in creating Atmanirbhar Bharat.
It was a remarkable experience for ArhShikshan to witness the collective efforts of the government, banks, and social entrepreneurs in shaping our nation towards a stronger and more inclusive future – a nation that we proudly call Samarth Bharat.
We are Looking forward to more such enriching events that bring together visionaries and changemakers to collectively work towards a brighter future.