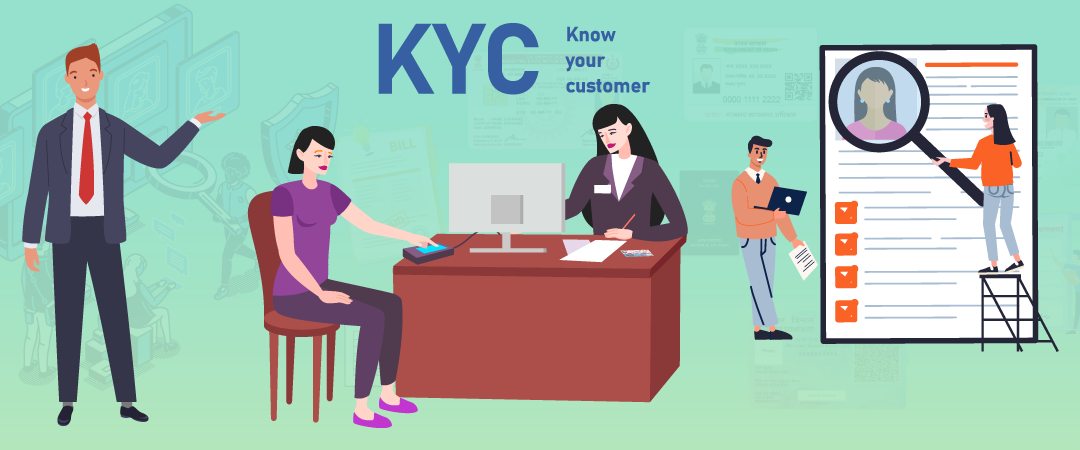 Modern-age banking and investment avenues have significantly developed with time, and accordingly, their rules and regulations and their requirements also have evolved. One of them is KYC!
You must have come across the term KYC quite a lot of times, haven't you? But then, what do you mean by KYC? Why do banks do KYC? What are the various documents banks require to complete KYC, and what are the different KYC processes? Let us look at the answers to these questions through this blog.
1. What do you mean by KYC?
Know Your Customer, popularly known as KYC, in simple words, is a process followed by banks and other financial institutions to verify the identity and address of customers who do financial transactions with them. The process is mandatory for every financial institution and made compulsory by the Reserve Bank of India. KYC is imperative for account opening, mutual fund investments, loan applications, applying for a credit card, investing in FDs, RDs, etc.
2. What are the documents required to do KYC while opening a bank account?
While opening a bank account, you must submit PAN as ID and address proof and Aadhar number/ enrolment number, along with a recent photograph.
3. What are the KYC documents for address proof?
Electricity bill (not more than three months old)
Telephone bill (not more than three months old)
Water bill (not more than three months old)
Passport
Driving license
Voter's card
Valid rent agreement
Valid identity cards with address printed and issued by colleges affiliated to ICAI, ICWAI, ICSI, Bar Council, etc. can also be considered as address proof for KYC
4. What are the documents for identity proof?
Voter ID card
Passport
UID that comes with the Aadhar card
PAN card with photograph
Documents with a photo of the document holder, issued by State, or Central Government, regulatory bodies, etc.
Valid identity cards issued by colleges affiliated to ICAI, ICWAI, ICSI, Bar Council, etc. can also be considered as address proof for KYC
A valid credit or debit card with the individual's name and address
5. What are the different types of KYC verification?
The two types of KYC verification – Aadhar-based KYC and in-person KYC. Let us look at both these types of KYC verifications.
Aadhar-Based KYC
Aadhar-based KYC can be done online. So, if you have an internet connection, you can do Aadhar-based KYC. However, you need to scan and upload a copy of your original Aadhar card to do the process.
Let us consider the example of mutual fund investments. If you want to invest in a particular mutual fund and opt for an Aadhar-based KYC, you can only invest INR 50,000 annually. However, if you're going to invest more, you need to do an in-person KYC verification.
In-Person KYC Verification
As the name suggests, in-person KYC verification is done offline, i.e., in-person. To complete the in-person KYC verification process, you need to visit a KYC kiosk or the bank and authenticate your identity through Aadhar biometrics. Nevertheless, if it isn't possible for you to see the bank in person, you can call the bank representative or the third-party vendor to send its KYC executive to your home or office and get the KYC done.
These days, and especially given the pandemic, banks or financial institutions complete KYC through video call, wherein you are required to show your Aadhar card and other documents as requested.
6. Are you required to do periodic KYC even after you've done it?
Yes. Banks are required to update their KYC records periodically. There are two reasons for it. First, it is a part of their measures to prevent fraud concerning customer accounts, and secondly, it forms a part of their ongoing due diligence on bank accounts. The period after which the bank may call or connect with you to update your KYC records varies based on the type of account and factors such as the bank's risk perception. However, yes, the bank may connect with you after a specific period to update their KYC records.
7. Is it necessary to complete the KYC process for every account that you open in a bank?
No. KYC is required only for the first time when you open a KYC-compliant account in a bank. You wouldn't need to submit the same documents while opening a new account in the same bank.
KYC is an essential process that helps banks and financial institutions verify the identity of their customers. It is a process that's important from the banks' security perspective and thus avoids security concerns such as fraud, fake identity, etc. We hope this blog was helpful enough to help you know about KYC. For more updates, keep following Arth Shikshan.